hiTRAN® Thermal Systems
Enhancement technology for tubular heat exchangers and reactors.
hiTRAN® Thermal Systems are an established, unique solution to substantially enhance the tube side heat transfer by changing fluid dynamics. Installed in more than 20, 000 exchangers worldwide over 40 years, a wide range of case studies are a testament to the benefits of hiTRAN
Two Phase Overview
Traditionally hiTRAN
®
Thermal Systems have been applied to single-phase heat exchanger services, but CALGAVIN
®
's research and innovation have enabled vaporiser and condensers to benefit too.
The heat transfer of tube side boiling is very much a function of the observed flow pattern and boiling mechanisms. Dependant on the type of vaporiser, hiTRAN can give key benefits shown further down the page.
Likewise, for condensers, where condensing vapour forms a liquid film on the tube surface, the heat transfer coefficient is dependent on the flow conditions of both film and vapour phases. Where such flow behaviour is ineffective hiTRAN can be used to modify it and promote effective heat transfer.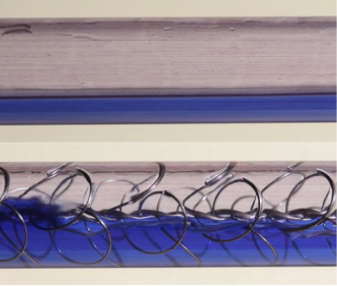 Features & Benefits
How it works?
At CALGAVIN
®
research has been undertaken both in our laboratory and at Universities to determine the effect of hiTRAN
®
Thermal Systems upon vaporisation and condensing exchangers.
The heat transfer mechanisms in action are often complex and may vary along the tube length from tube to tube and pass to pass. Our webinars titled 'Total Vaporisation', ',Boiling with a low Delta T' and 'hiTRAN® Thermal Systems in tube side condensing processes' detail how hiTRAN can help heat and mass transfer mechanisms, mixing, fluid distribution, drainage and de-entertainment.