hiTRAN® Thermal Systems
Enhancement technology for tubular heat exchangers and reactors.
hiTRAN® Thermal Systems are an established, unique solution to substantially enhance the tube side heat transfer by changing fluid dynamics. Installed in more than 20, 000 exchangers worldwide over 40 years, a wide range of case studies are a testament to the benefits of hiTRAN
hiTRAN® Thermal Systems
hiTRAN Thermal Systems incorporate a wire matrix element (turbulators), purpose-designed and easily installed to offer the most significant benefit for laminar and transitional flow regimes.
The tube side heat transfer coefficient can be increased up to 16x, dependent upon Reynolds number and hiTRAN geometry. Applications in both single and two-phase flow are possible, including high and low viscosity fluids. For new exchangers installation is completed after fabrication and can easily be retrofitted to debottleneck existing equipment too.
The System comprises of a wide variety of geometries that can be selected to meet a broad range of requirements and conditions, allowing a wide scope of processes to benefit. Payback is usually rapid making ownership an affordable investment.
hiTRAN Thermal Systems are shipped worldwide from our UK based design and manufacturing facility. Where design is supported by years of research and performance feedback, enabling CALGAVIN® to offer unique performance warranty. Our integrated design and manufacturing process operate in accordance with ISO9001 to ensure the highest quality products and reliability.
To know more about hiTRAN's features and benefits, please follow the single and two-phase overview links on the left.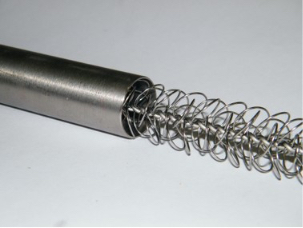 Frequently asked questions