Oil Refining
Refinery production costs are being driven to the absolute minimum notwithstanding global pressure for additional investment to keep reducing sulphur content to meet tighter emissions legislation.
Global demand dictates Refineries' slate, where process changes to meet targets provide opportunities for technical improvement, CALGAVIN® delivers.
Refined enhancement
Heat exchangers are essential plant for Refinery operations, strongly influencing the economics of the extraction of crude of its primary components.
Underperforming static equipment is often a significant deficit in maintaining planned production levels. With an audit type study for heat exchangers, many opportunities to substantially improve runtime are achieved through improved thermal efficiency.
Many of our global clients have benefited from our studies and retrofit solutions for example, for Shell, BP, Imperial Oil, Petronas, Lukoil, Indian Oil Corporation, Kuwait Oil Company and many others.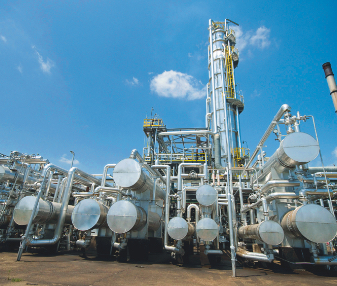 Oil Refining Applications

Through its flexibility and extra effort, CALGAVIN delivered all the necessary hiTRAN elements to an exceptionally tight schedule. We are talking here about the hand making, and delivery of 927 pieces! The whole job was done in a period of 4 weeks!
Elger Colman - Supervisor/Co-ordinator, Refining & Chemicals, TotalEnergies, Antwerp, Belgium

CALGAVIN Ltd completed the successful reconstruction of a hydrotreater as part of a catalytic reforming unit on the Vologograd refinery. This retrofit with hiTRAN Thermal Systems enhanced the thermal rating and increased the duty of the heater while still reducing heat loss at the same time.
V.A.Zyazin, Director-General – Lukoil