Martin Gough hands over HTS Presidency after 3 years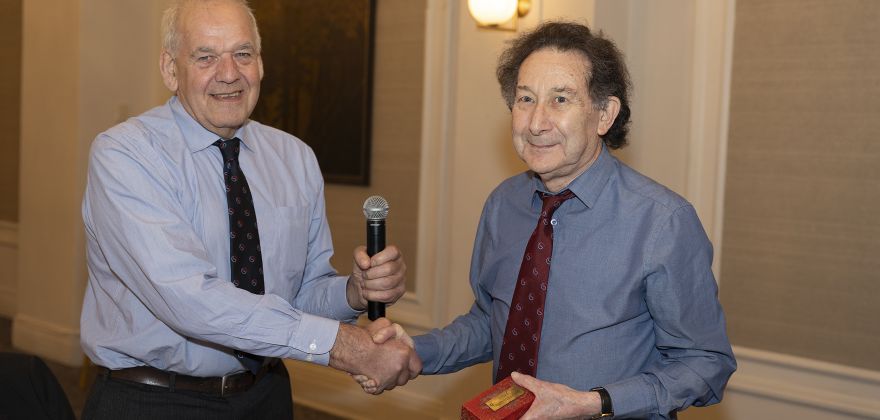 The 56th UK Heat Transfer Society dinner took place in the Grand Connaught Rooms in London on 25th March after a two year gap due to the COVID pandemic, and CALGAVIN® took a table at the event as usual, with invited guests Nigel Stone (Greens Power Ltd), Ian Gibbard (Progressive Thermal Engineering) and Prof Jonathan Seville (University of Birmingham).
The Heat Transfer Society was founded in 1964 by a small group of heat transfer engineers working in London. They represented the major UK contracting and manufacturing companies and soon began to discuss work and their heat transfer problems, and started technical forum presentations on a wide range of topical subjects. An executive committee was formed a year later with a Chairman and a President (elected annually).
The event this year was started, after an introduction from Chairman David Norton, with over 60 guests who sat down to enjoy the splendid meal and conversation.
After the meal David Norton introduced the outgoing President Martin Gough (CALGAVIN Ltd) who gave a brief speech before introducing the new President, Colin Weil and passing over the Presidential balls of office. Colin then gave an interesting speech with lots of historical references from his experiences.
David Norton then gave out the Mike Ackrill Memorial Trophy to the winners for best presentation at a Heat Transfer Society event for 2020, 2021 & 2022, sadly only the 2020 winner Paul Siggery (HTRI) was present to accept the trophy from David Norton.
Then with a change from the normal the raffle prizes were decided by a stand-up bingo session, sponsored by Graham Hart (Process Technology) Ltd and managed by David Norton. With only three people still standing after several rounds the winners were decided with Martin Gough winning first prize.
The society's aims are to promote all aspects of heat transfer and associated equipment by enabling engineers, designers and researchers in any area of activity involving those aspects, to meet and discuss subjects of common interest.
The next Heat Transfer Society dinner will take place on Friday 24th March 2023.